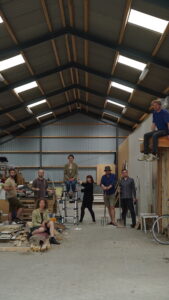 Shoeless and Shameless: The Barefoot Collective
Shoeless and Shameless is the first collaborative release from the musician-run record label Barefoot Records. Featuring each of the collective's members both composing and playing. The record touches upon curiosity, humor and reflection, mirroring the span of the genre-bending artists on the label. The music of Shoeless and Shameless was conceived in June 2021, when the seven members ventured out of their respective cities around Scandinavia, and spent a day recording music together in the idyllic surroundings of Hvalsø in rural Denmark. Each member of the group brought a composition to the table, which was then developed in various constellation settings. Each instrumentalist became entangled in each other's compositions, and through improvisation and musical experiments, the album Shoeless and Shameless was born. The pillars of the Barefoot Records manifesto are at the core of this release, where improvisation and freedom of musical expression are present. Shoeless and Shameless is a record where seven distinct artistic voices give way to a collective sound.
Track listing
 Wet Feet

 Solo:Riff

 Flamingo Sketches

 Solhverv

 How, Where, When, How Often?

 Time/ Goodbye

 

Watch Watches Watching Watches
Line-up and credits
Tomasz Dąbrowski (PL) – trumpet, Maria Dybbroe (DK) – alto saxophone, Sven Dam Meinild (DK) – alto saxophone, Carolyn Goodwin (IE) – clarinet & bass clarinet, Nana Pi Aabo-Kim (DK) – tenor saxophone & objects, Henrik Olsson (SE) – guitar & objects, Kasper Tom Christiansen (DK) – drums, Håkon Berre (NO) – drums & objects
Recorded, mixed and mastered by Sven Dam Meinild
Compositions by Maria Dybbroe, Sven Dam Meinild, Carolyn Goodwin, Nana Pi Aabo-Kim, Henrik Olsson, Kasper Tom Christiansen, Håkon Berre. 
Artwork by Josephine Kjærulf Sommer
---